2019 1st Quarter Non-Profit Award
In April of 2019, Jardin was honored to receive the recognition of 1st Quarter Non-Profit by the Las Cruces Hispanic Chamber of Commerce. We care deeply for our children and families and are thankful to each and every one of our community partners who support our mission and our work.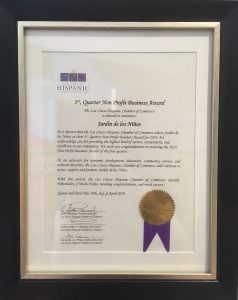 2016 Five-Star Certification
Jardin de los Niños has obtained a Five-Star rating from the New Mexico FOCUS program. The program was developed as a means of creating and sustaining an early learning system that focuses on building high-quality, comprehensive community programs that form a continuum of integrated services. This means that children receive the highest possible care available in the industry. The New Mexico program is a widely respected one, and incorporates specific elements of quality that we feel are essential to the continued growth and development of our precious children. ​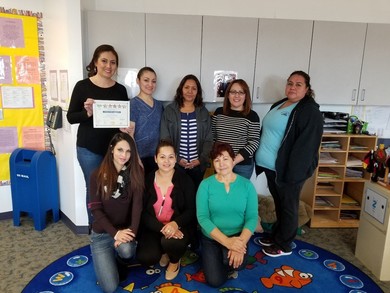 2015 Non-Profit of the Year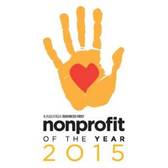 In September 2015, Jardin de los Niños was declared Nonprofit of the year in the Education category for the state of New Mexico by the Albuquerque Business First Organization.
2014 Non-Profit of the Year
In December 2014, Jardin de los Niños was named the "Non-Profit of the Year" by the Greater Las Cruces Chamber of Commerce. This was a huge accomplishment for our organization. This year Jardin also received Four-Star Accreditation at a National Level and set a goal to obtain Five-Star Accreditation through the New Mexico Children Youth and Families Department's FOCUS Program.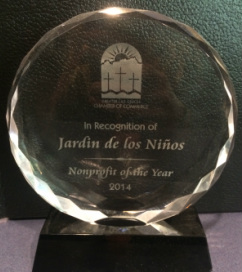 Dec, 2014 Non-Profit of the Month
In December of 2014, Jardin de los Niños was recognized by the Greater Las Cruces Chamber of Commerce as the Non-Profit of the Month for its success and impact on the community. in response to this honor, Jardin's Board President Dolores Connor remarked, "Jardin is a positive place for the children and their families to move forward. The community and the Greater Las Cruces Chamber have supported Jardin as the December non-profit of the month and we are humbled by this distinction."
The New Mexico Community Foundation presented Jardin with the 2012 Chispa Award for its success and potential in "shining a light in our community."